Get Extra Savings at Michael Kors with The Coupons App
Are you a fashion-forward individual looking for high-quality, luxury items at discounted prices? Look no further than Michael Kors. This well-known brand specializes in designer clothing, handbags, footwear, accessories, and more. With a focus on modern elegance and timeless style, Michael Kors offers a wide range of products that resonate with fashion enthusiasts around the world.
Fun fact: Did you know that Michael Kors initially started his career in the fashion industry as a child model? With his eye for style and a keen sense of what customers want, he soon transitioned into designing his own fashion line, which has become a global success.
Popular Items at Michael Kors
Michael Kors is renowned for its iconic designs and top-notch craftsmanship. Here are some of the brand's most popular items that are sure to catch your attention:
1. Designer Handbags
Michael Kors is known for its luxurious handbags that combine functionality with fashion. From classic totes and crossbody bags to chic clutches and backpacks, the brand offers a diverse range of styles to suit every occasion.
2. Sophisticated Watches
A Michael Kors watch is a timeless accessory that adds a touch of elegance to any outfit. With their sleek designs and attention to detail, these timepieces are not just about telling time, but also making a fashion statement.
3. Stylish Clothing
From dresses and tops to pants and jackets, Michael Kors clothing showcases the brand's signature style. Whether you're dressing up for a special event or looking for everyday essentials, their clothing collection has something for everyone.
4. Trendy Footwear
Step out in style with Michael Kors footwear. Their shoes range from sophisticated heels to comfortable sneakers, ensuring you look fashionable from head to toe.
5. Fashionable Accessories
No outfit is complete without the right accessories. Michael Kors offers a wide variety of fashionable accessories, including sunglasses, wallets, belts, and jewelry, to elevate your look.
Now, let's talk about the exciting deal available at Michael Kors. For a limited time, you can enjoy an extra 22% off sale items both in-store and online when you use the promo code SINGLESDAY. This amazing offer allows you to save even more on already discounted products, giving you incredible value for your money.
Whether you're looking to update your wardrobe, add a statement piece to your accessories collection, or simply treat yourself to a luxurious item, this discount at Michael Kors is too good to pass up.
To take advantage of this offer, simply visit the Michael Kors website or head to your nearest store. When shopping online, enter the promo code SINGLESDAY during checkout to apply the additional discount. Remember to start your shopping journey at The Coupons App to find this coupon and many other exclusive promo codes for Michael Kors, so you can save more while indulging in your favorite luxury brand.
So what are you waiting for? Treat yourself to some affordable luxury and shop at Michael Kors today!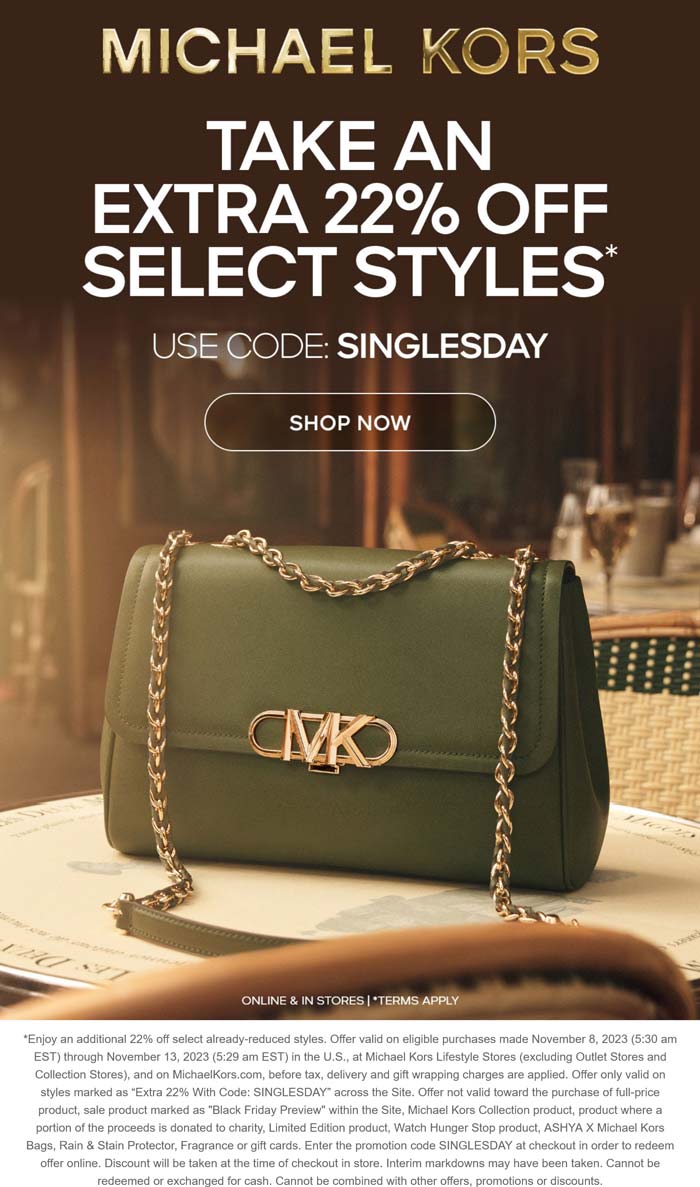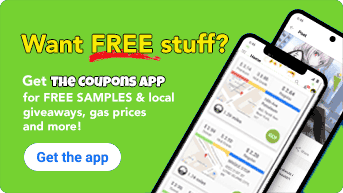 Extra 22% off sale items at Michael Kors, or online via promo code SINGLESDAY #michaelkors