Welcome to Michaels – Your One-Stop Shop for All Things Creative!
Michaels is a well-loved retailer that specializes in providing a wide range of art and craft supplies, home decor, framing options, and seasonal merchandise. Whether you are a seasoned artist, DIY enthusiast, or just looking to add a personal touch to your space, Michaels has everything you need to let your creativity shine.
A Little-Known Tidbit: The Birthplace of Michaels
You might be surprised to learn that Michaels was actually founded in Dallas, Texas in 1973 by Michael J. Dupey. What started as a single store has now expanded into over 1,000 locations across the United States, Canada, and even Mexico.
Popular Items at Michaels
Michaels offers an extensive range of products to cater to every creative need. Here are just a few of the popular items that customers love:
1. Art Supplies
From paintbrushes and canvases to sketchbooks and colored pencils, Michaels has a vast selection of art supplies that will inspire your inner Picasso. Whether you're a professional artist or a beginner, you'll find the tools you need to bring your vision to life.
2. Home Decor
Add a personal touch to your living space with Michaels' stylish and affordable home decor options. From trendy wall art to unique photo frames, you can easily transform any room into a reflection of your personal style.
3. DIY Craft Kits
If you love hands-on projects but need a little guidance, Michaels offers a wide variety of DIY craft kits suitable for all skill levels. Whether you want to learn calligraphy, make your own candles, or create stunning jewelry, these kits provide everything you need to get started.
4. Party Supplies
Planning a party? Michaels has got you covered with their extensive selection of party supplies and decorations. From balloons and banners to themed tableware, you'll find everything you need to throw a memorable celebration.
5. Seasonal Merchandise
Michaels is known for its vast collection of seasonal merchandise, making it the go-to destination for holiday-themed decor and crafting supplies. Whether it's Halloween, Christmas, or any other festive occasion, Michaels has the perfect items to help you celebrate in style.
The Deal: 25% off Everything at Michaels!
Now, let's talk about the exciting deal that Michaels is offering. For a limited time, you can enjoy 25% off everything at Michaels both in-store and online! Yes, you heard that right – this discount applies to all your favorite products, from art supplies to home decor and more.
To take advantage of this incredible offer, simply head to your nearest Michaels store and present the coupon at the register. If you prefer to shop online, you can use the promo code 25FAMFRNDS during checkout to enjoy the discount from the comfort of your own home.
Imagine all the savings you'll enjoy as you browse through Michaels' extensive product selection. Whether you've been eyeing that new set of paintbrushes or wanting to add a personal touch to your living room, now is the perfect time to shop and save.
Keep in mind that while this deal is certainly impressive, there might be even more exclusive online shopping promo codes available for Michaels on The Coupons App. Be sure to check the app or website to find additional discounts and offers that will enhance your shopping experience even further. They update the coupons regularly, so you never know what fantastic deals you might discover!
Remember, Michaels is the ultimate destination for all your creative needs. With their extensive product range, knowledgeable staff, and incredible savings, you'll find everything you need to unleash your artistic side. Don't miss out on this amazing 25% off deal – visit Michaels today or shop online to create and save!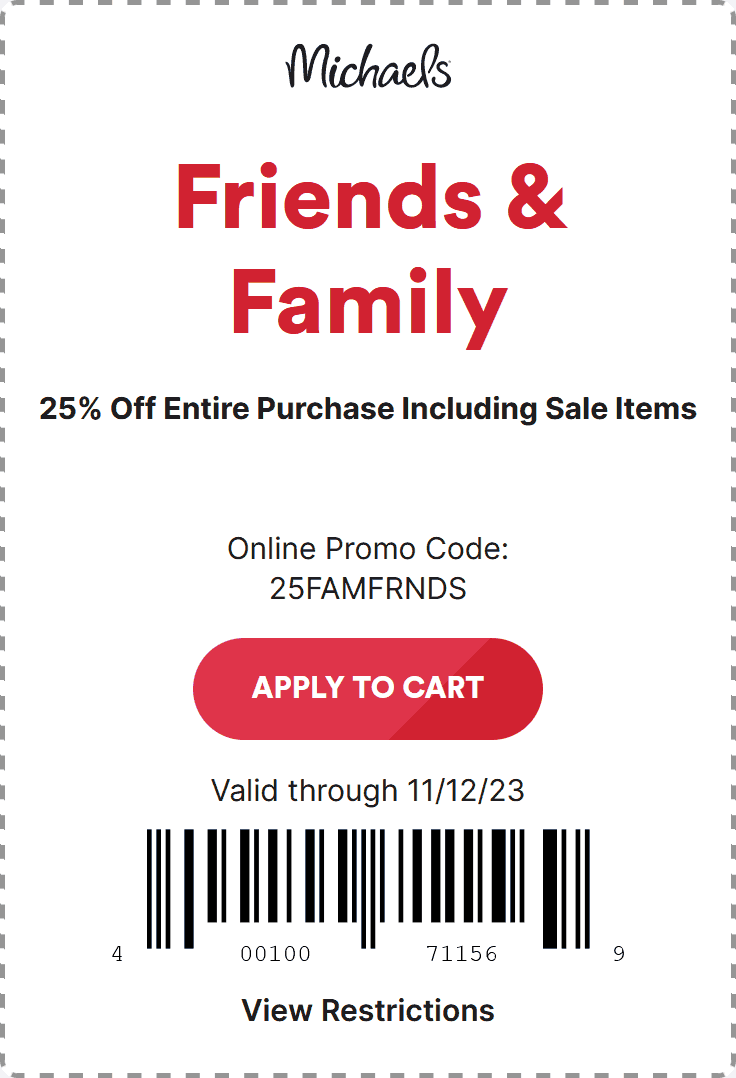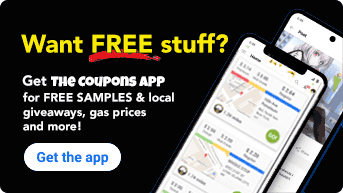 25% off everything at Michaels, or online via promo code 25FAMFRNDS #michaels