Welcome to the World of Krispy Kreme!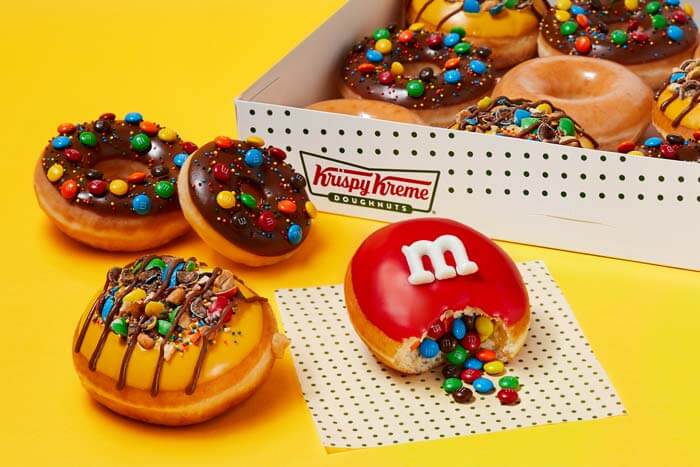 Ah, Krispy Kreme, the heavenly haven for all doughnut lovers! Just the thought of their delicious, glazed confections can make your mouth water and your taste buds dance with anticipation. Known for their melt-in-your-mouth doughnuts, Krispy Kreme has become a legendary name in the pastry world. But there's so much more to discover about this delightful brand than meets the eye!
Irresistible Doughnuts and More!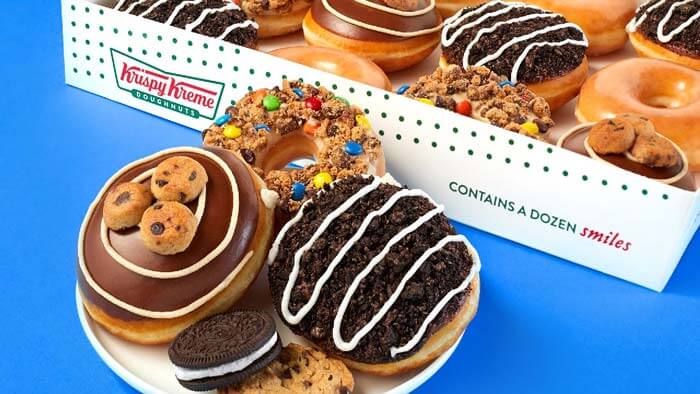 Krispy Kreme has been delighting doughnut enthusiasts with their delectable creations since 1937. From the classic Original Glazed doughnuts to the indulgent Chocolate Iced Glazed, their menu boasts a wide array of flavors and varieties to satisfy every craving. But did you know that Krispy Kreme also offers delicious coffee, refreshing beverages, and even mouthwatering ice cream? Yes, it's true! They've expanded their offerings to ensure you have the perfect treat for any occasion.
Indulge in the Classics
When you step into a Krispy Kreme store, you'll be greeted by the aroma of freshly baked doughnuts, each one crafted with precision and love. Don't miss their iconic Original Glazed doughnut, a classic choice that has won the hearts of millions. The pillowy softness, the delicate glaze, and the perfect balance of sweetness make it an irresistible delight. It's like a little taste of heaven in every bite!
Explore New Flavors and Innovations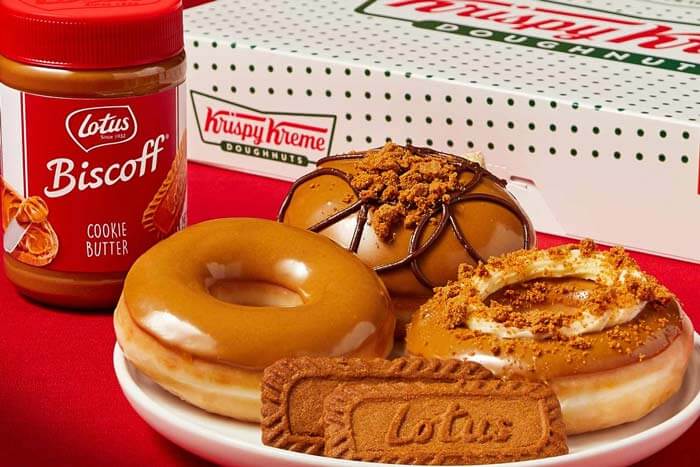 Krispy Kreme is always pushing the boundaries of doughnut perfection. They love surprising their fans with limited-time flavors and creative collaborations. From mouthwatering fruit-filled varieties to decadent chocolate-covered delights, there's always something new to try at Krispy Kreme. Keep an eye out for their seasonal offerings and special promotions to make every visit a scrumptious adventure.
Experience The Coupons App® Magic
Now, here's a little secret to make your Krispy Kreme experience even sweeter. Have you heard about The Coupons App®? It's a game-changer that helps you save money on your favorite brands, including Krispy Kreme! With The Coupons App®, you'll have access to a world of discounts, deals, and exclusive offers, all at your fingertips. Imagine enjoying your favorite doughnuts while also keeping some extra dough in your wallet. Sounds tempting, doesn't it?
The $10 Dozen Doughnuts Deal!
We're here to make your day even better with an incredible deal. Right now, you can get a dozen of Krispy Kreme's mouthwatering doughnuts for just $10! Yes, you read that right. It's a steal! This limited-time offer is a gift from the doughnut gods, so don't miss out. Simply head over to doughnut heaven to visit Krispy Kreme's website and explore their tempting doughnut selection. Remember, the coupon expires on November 30th, 2023 at 11:59 PM, so grab it while you can!
Go on, Treat Yourself!
Whether you're a long-time Krispy Kreme fan or new to their heavenly delights, now is the perfect time to indulge your sweet tooth. Grab your friends, family, or even fly solo, and head to your nearest Krispy Kreme store to experience the joy of their doughnuts firsthand. With The Coupons App® by your side, you can save money while treating yourself to doughnut paradise. What could be better than that?
Install The Coupons App® Today!
Ready to unlock a world of incredible savings? Don't wait another second! Install The Coupons App® on your smartphone or tablet right now. It's easy, free, and will revolutionize the way you shop and save. Say goodbye to clipping coupons and hello to the future of discount hunting. The Coupons App® will be your saving grace, guiding you to the best deals and helping you keep more money in your pocket. Trust us, once you start using it, you'll wonder how you ever lived without it!
Start Saving and Enjoying Krispy Kreme!
Now, armed with the knowledge of Krispy Kreme's mouthwatering doughnuts, their exciting flavors, and The Coupons App®'s incredible saving power, you're ready to embark on an unforgettable treat-filled journey. Remember, life is too short to miss out on the simple pleasures, and Krispy Kreme is here to bring joy to your taste buds. So, what are you waiting for? Dive into the world of Krispy Kreme today and discover a new level of doughnut obsession!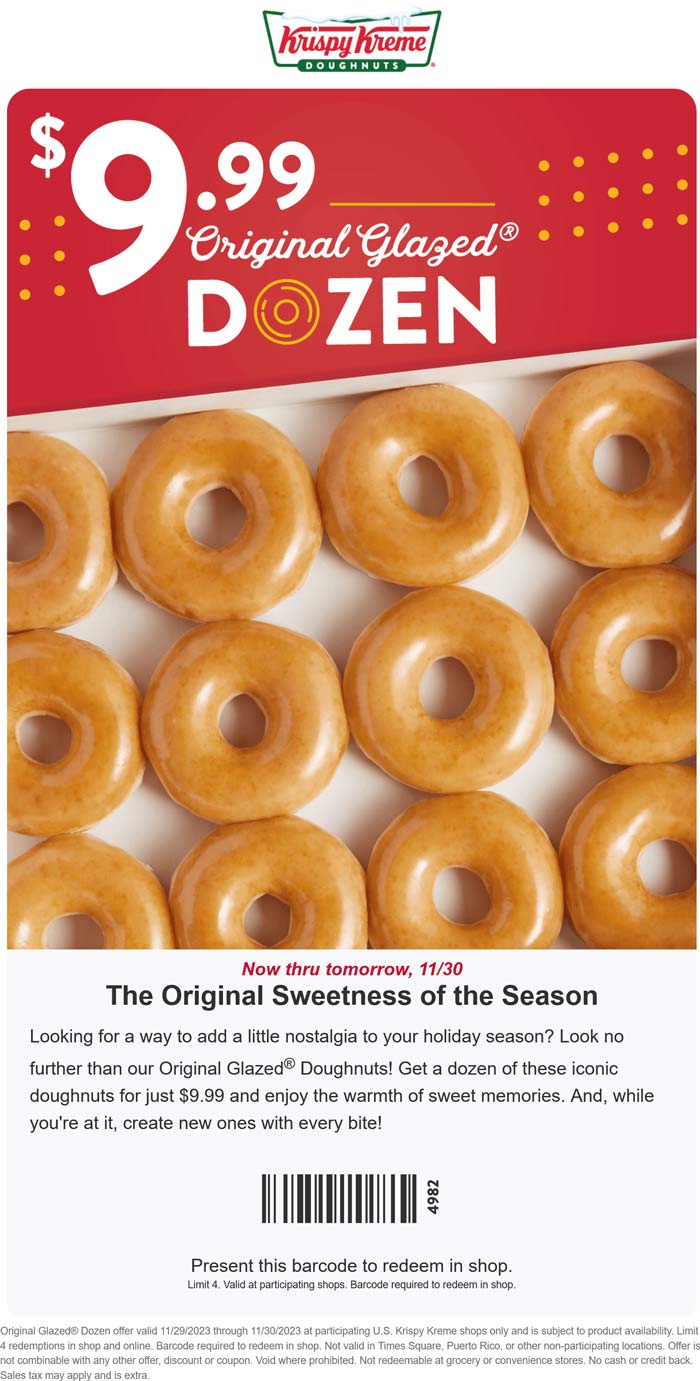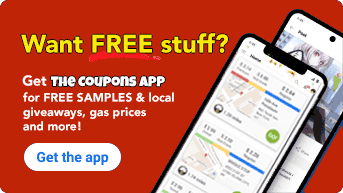 $10 dozen doughnuts at Krispy Kreme #krispykreme