Save Money at la Madeleine with The Coupons App
Welcome to la Madeleine, a charming French bakery and café that brings the flavors of France to your neighborhood! Whether you're a fan of flaky croissants, savory quiches, or indulgent pastries, la Madeleine offers a delectable menu that will transport you to the streets of Paris.
Fun Fact: Did you know that la Madeleine was founded in Dallas, Texas? Despite its Texan roots, this beloved bakery stays true to its French-inspired heritage, serving up authentic dishes made with the finest ingredients.
Irresistible French Delights
From breakfast to dinner, la Madeleine has something for everyone. Start your day with a buttery, freshly baked croissant paired with a steaming cup of rich coffee. The aroma alone will make you feel like you're sitting at a sidewalk café in Paris.
For lunch, indulge in one of la Madeleine's signature sandwiches, like the famous Chicken Parisien or the savory Turkey & Brie. Each sandwich is made to perfection, with layers of flavorful ingredients and their signature artisan bread.
No visit to la Madeleine is complete without trying their quiches. These delicate, custard-filled pastries are available in a variety of flavors, including Lorraine, Florentine, and Spinach & Mushroom. Pair it with a side salad for a satisfying meal.
And let's not forget about dessert! la Madeleine offers an array of heavenly pastries, from fruit tarts to éclairs. Indulge your sweet tooth with their famous Lemon Madeleines, soft and buttery cakes with a burst of citrus flavor.
Save with The Coupons App
Now, let's talk about savings! As a savvy shopper, you'll love using The Coupons App to unlock exclusive discounts and promo codes for la Madeleine. Not only will you be enjoying delicious French cuisine, but you'll also be saving money while doing so!
The latest deal available is for veterans, who can enjoy a generous 30% off their meal today at la Madeleine restaurants. It's a small token of appreciation for their service and a great opportunity to enjoy a scrumptious meal at a discounted price.
What's more, The Coupons App regularly updates its database with online shopping promo codes for various brands, so be sure to check if there are any ongoing offers for la Madeleine. These codes can help you save money on online orders, making it even more convenient to enjoy your favorite French dishes from the comfort of your own home.
Explore The Coupons App to find the latest deals, discounts, and promo codes for la Madeleine and other popular brands. By taking advantage of these offers, you can enjoy exceptional savings while treating yourself to an authentic taste of France.
Remember, the coupon mentioned above is located further down the page, so make sure to scroll down and grab the discount code before you head to la Madeleine. Happy saving and bon appétit!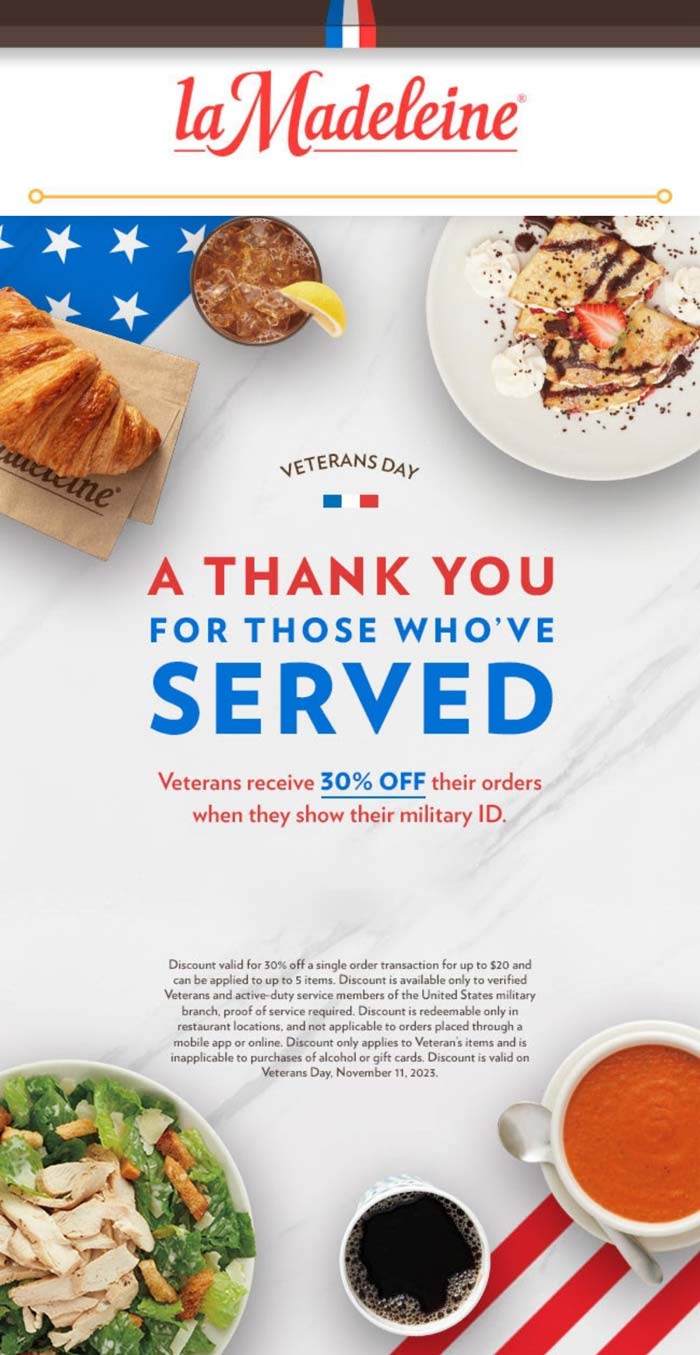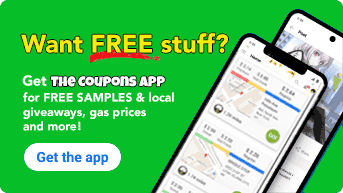 Veterans get 30% off today at la Madeleine restaurants #lamadeleine