Save Money at On The Border with The Coupons App
Did you know that On The Border is a popular Tex-Mex restaurant chain known for its delicious food and lively atmosphere? With over 150 locations across the United States, On The Border has been serving up mouthwatering dishes since 1982. Whether you're in the mood for sizzling fajitas, cheesy enchiladas, or refreshing margaritas, On The Border has got you covered.
One interesting tidbit about On The Border is that their signature salsa is made fresh daily using only the finest ingredients. This attention to detail is evident in every dish they serve. From their sizzling mesquite-grilled meats to their hand-pressed tortillas, On The Border prides itself on creating dishes bursting with authentic flavors.
Delicious Tex-Mex Delights
When you visit On The Border, you're in for a treat. Their menu is filled with a variety of Tex-Mex delights that will leave you craving for more. Here are a few popular items that have made On The Border a favorite among food lovers:
1. Border Queso
Start your meal off right with a bowl of On The Border's famous Border Queso. This creamy, cheesy dip is made with melted queso and seasoned beef, and is served with bottomless tortilla chips. It's the perfect combination of flavors to whet your appetite.
2. Fajitas
No trip to On The Border is complete without trying their sizzling fajitas. Whether you prefer chicken, steak, shrimp, or a combination of all three, their fajitas are cooked to perfection and served with sautéed onions and peppers, guacamole, sour cream, and warm flour tortillas. It's a meal that will satisfy all your cravings.
3. Enchiladas
If you're a fan of cheesy, saucy goodness, On The Border's enchiladas will not disappoint. Made with your choice of filling, such as beef, chicken, or cheese, these enchiladas are topped with their signature red or green sauce, melted cheese, and served with Mexican rice and refried beans. It's comfort food at its finest.
Now, let's talk about the exciting deal available at On The Border. Veterans can enjoy a free pick 2 combo meal today. This offer is a token of gratitude for their service and sacrifice. If you're a veteran, be sure to take advantage of this generous offer at your nearest On The Border location.
If you're not a veteran, don't worry! The Coupons App has got you covered. We have exclusive online promo codes that can help you save money on your next On The Border visit. Whether you're looking for discounts on appetizers, entrees, or drinks, we have a variety of deals that will make your meal even more enjoyable.
Don't miss out on these amazing savings! To access the On The Border promo codes, head over to The Coupons App and search for On The Border. From there, you'll be able to unlock fantastic discounts that you can use on your next visit. Best of all, The Coupons App is free to download and use, so you have nothing to lose!
Remember, the coupon codes for On The Border are located further down the page on The Coupons App. So be sure to keep scrolling to discover incredible savings that will make your dining experience at On The Border even more satisfying.
So what are you waiting for? Grab your family and friends and head to On The Border for a delicious Tex-Mex feast. With our promo codes and coupons, you can enjoy great food and great savings. Hurry and take advantage of these offers before they expire!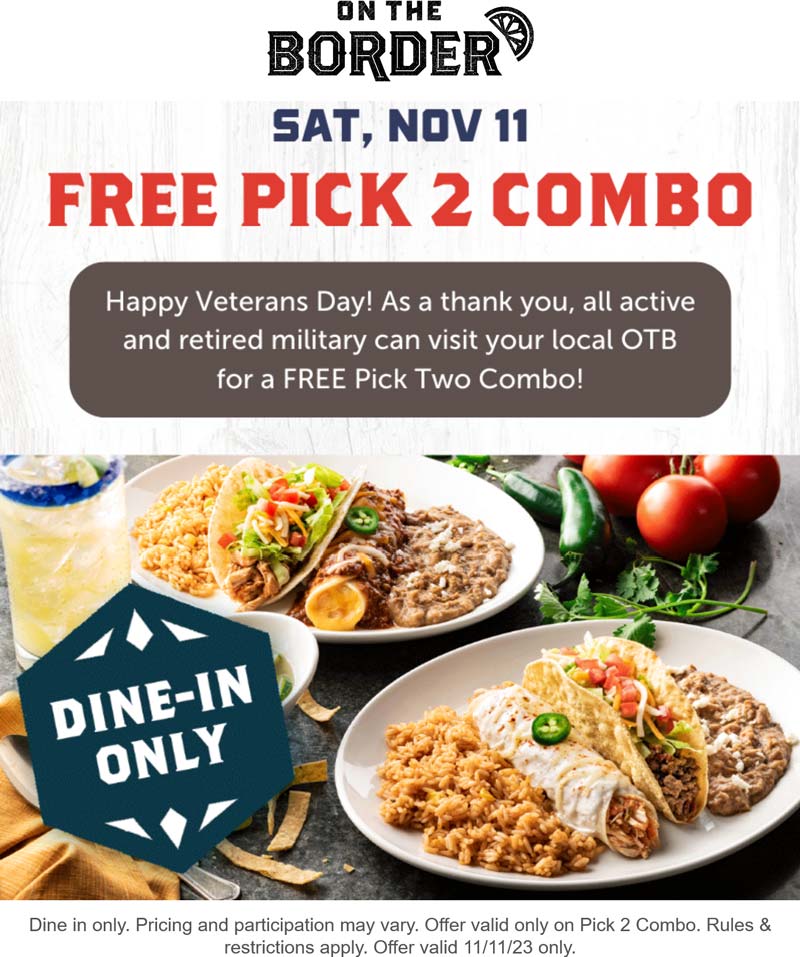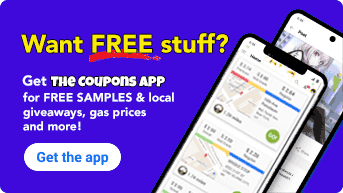 Veterans enjoy a free pick 2 combo meal today at On The Border #ontheborder