Welcome to Smashburger – Where Burgers are Made to Perfection!
Smashburger is not your average burger joint. Oh no, my friend. Prepare yourself for a flavor experience like no other. At Smashburger, every burger is crafted to perfection and packed with mouthwatering goodness. From their juicy patties to their artisan buns, every bite is a burst of deliciousness.
What Makes Smashburger Special?
Let me tell you a little secret – Smashburger is all about smashing things up, in the best way possible. They take fresh, high-quality ingredients and smash them together to create the ultimate burger masterpiece. The process of "smashing" the burger helps to seal in the flavors and create that perfect, crispy edge. It's a technique that guarantees every burger is incredibly tasty.
But wait, there's more! Smashburger offers a variety of unique and flavorful options to cater to every palate. Whether you're a fan of classic cheeseburgers, crave bold and spicy flavors, or prefer plant-based options, they have something for everyone. Plus, their menu features customizable burgers, where you can build your dream burger with your choice of toppings and sauces.
Irresistible Smashburger Favorites
Let's talk about some of their all-time favorites that will make your taste buds jump for joy:
The Classic Smash: A timeless combination of American cheese, lettuce, tomato, pickles, onions, and their signature Smash Sauce. It's a classic for a reason!
Spicy Baja: Looking for a little kick? This burger comes with fresh jalapeños, guacamole, melted pepper jack cheese, lettuce, tomato, and spicy chipotle mayo.
BBQ Bacon & Cheddar: This burger is a meaty masterpiece with BBQ sauce, applewood smoked bacon, cheddar cheese, lettuce, tomato, and mayo. Prepare for a flavor explosion!
Oh, and did I mention their irresistible SmashFries? These crispy shoestring fries are tossed in their secret seasoning, making them the perfect sidekick to your burger.
Now, let's get down to business. Are you ready for some incredible savings? Well, here's a deal you don't want to miss:
Cyber Monday Special – Buy One Cheeseburger, Get One Free!
For a limited time, use the promo code CYBERBOGO and get a second cheeseburger absolutely FREE when you purchase one. Yes, you read that right – a BOGO deal just for you at Smashburger! This is the perfect opportunity to try out their mouthwatering creations without breaking the bank.
Imagine sinking your teeth into two delicious cheeseburgers for the price of one. It's a deal that cannot be beaten. So why wait? Head over to Smashburger's website and start planning your feast today!
Don't forget, this coupon expires on 12/31, so make sure to take advantage of it sooner rather than later. Your taste buds will thank you!
---
About The Coupons App®
Looking for more incredible deals and savings? Look no further than The Coupons App®! It's your ultimate money-saving companion, offering thousands of coupons, promo codes, and discounts for your favorite stores and restaurants.
With The Coupons App®, you can easily find the latest deals at Smashburger and many other popular brands. Simply download the app, browse through the available coupons, and save big on your next outing.
Install The Coupons App® today and unlock a whole new world of savings!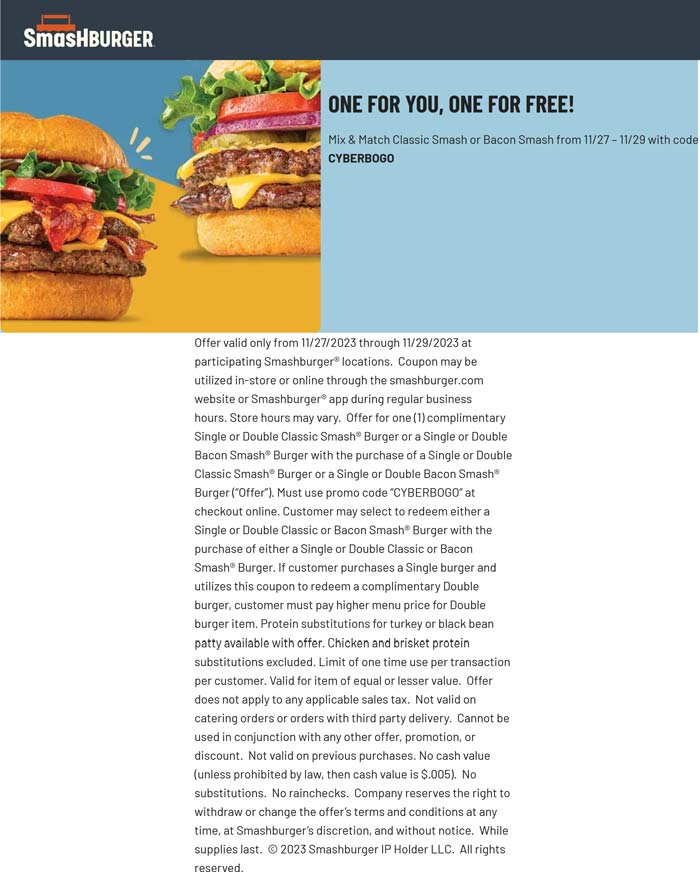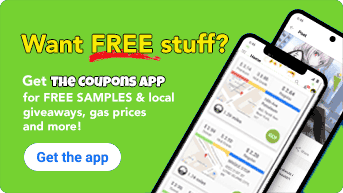 Second cheeseburger free at Smashburger via promo code CYBERBOGO #smashburger