Pokeworks – Fresh and Flavorful Bowls
Pokeworks is a popular restaurant known for its delicious and customizable poke bowls. With a commitment to using fresh, high-quality ingredients, Pokeworks has become a go-to spot for seafood lovers and health-conscious individuals.
Did you know that the name "poke" means "to slice or cut" in Hawaiian? Pokeworks stays true to the traditional Hawaiian dish, offering a variety of delectable options. From marinated raw fish to rice, vegetables, and flavorful sauces, each bowl is a burst of flavors and textures.
Irresistible Poke Bowl Creations
At Pokeworks, you can create your own poke bowl or choose from their signature creations. Here are a few customer favorites:
Spicy Ahi Poke Bowl
For those who enjoy a kick of heat, the Spicy Ahi Poke Bowl is a must-try. It features fresh ahi tuna marinated in a spicy sauce, along with a selection of toppings and sauces that complement the heat.
Salmon Lover Bowl
If you're a fan of salmon, the Salmon Lover Bowl is a dream come true. It showcases premium salmon cubes, perfectly seasoned and served with a variety of fresh vegetables and flavorful sauces.
Vegan Tofu Bowl
Pokeworks also caters to vegans with their Vegan Tofu Bowl. This mouthwatering creation combines marinated tofu, a rainbow of veggies, and vegan-friendly sauces to satisfy every taste bud.
Each poke bowl at Pokeworks is a colorful masterpiece, offering a balance of flavors and textures that will leave you craving for more. Whether you're a seafood lover, a sushi enthusiast, or a health-conscious individual, Pokeworks has something to please everyone.
The Coupons App Promo – Miso Soup for $1.50
As an exclusive offer for customers, Pokeworks is currently running a special promotion. Use promo code MISO150 and enjoy a delicious cup of Miso soup for only $1.50 with your order. This warm and savory soup is the perfect companion to your poke bowl, adding an extra layer of satisfaction to your meal.
Don't miss out on this fantastic deal from Pokeworks! To redeem the coupon, simply enter the promo code MISO150 during checkout. Keep in mind that the coupon is located further down the page. Use The Coupons App to access this offer and save on a delightful dining experience at Pokeworks.
Remember to visit Pokeworks' homepage to explore their menu, find a location near you, and discover more mouthwatering options.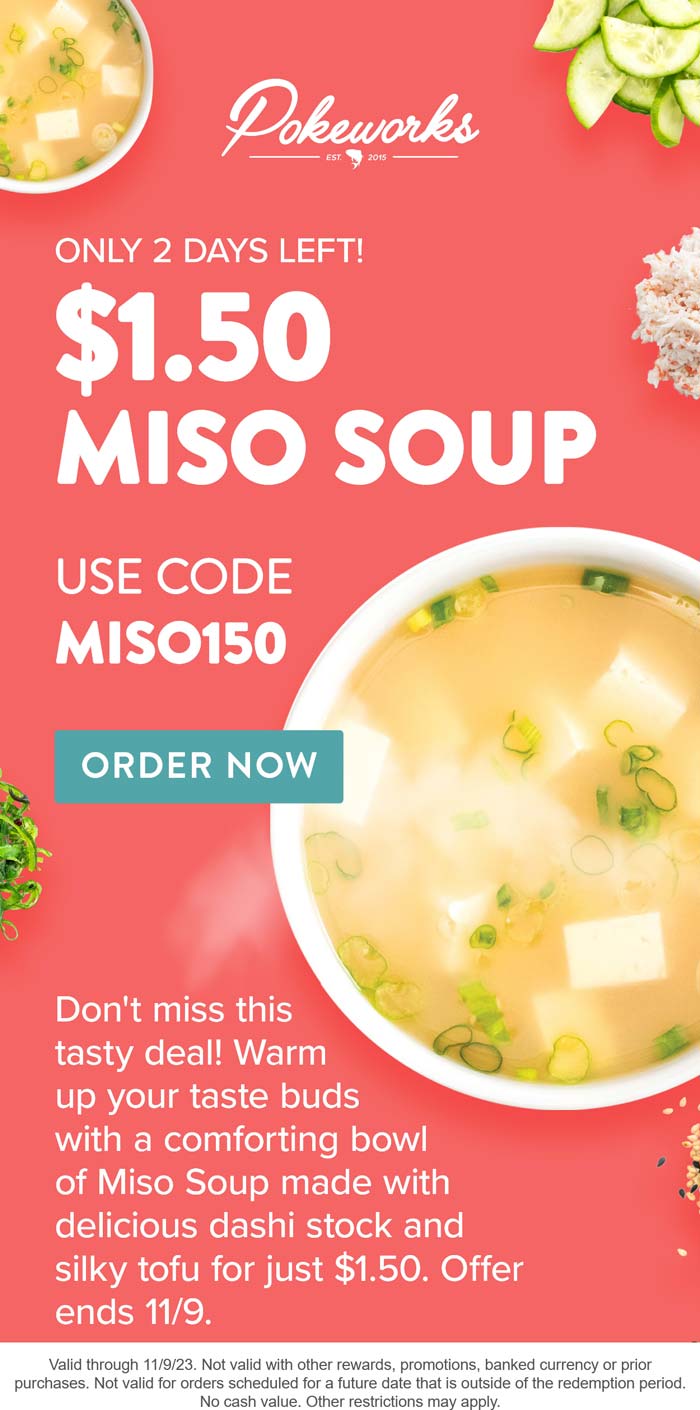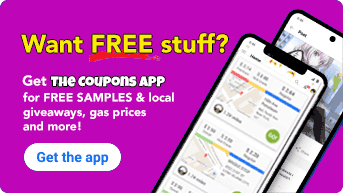 Miso soup for $1.50 at Pokeworks restaurants via promo code MISO150 #pokeworks