Discover First Watch – Your Sensational Breakfast Spot!
Did you know that First Watch is not just another ordinary breakfast joint? It is a haven for breakfast lovers, and dare we say, a breakfast paradise. With their mouthwatering menu items and dedication to serving only the freshest ingredients, First Watch has become a beloved destination for breakfast enthusiasts everywhere.
When you walk into a First Watch restaurant, you can expect to be greeted by a warm and friendly atmosphere. The smell of freshly brewed coffee fills the air, and the sound of sizzling bacon and eggs on the griddle is enough to make your mouth water. It's like stepping into a breakfast wonderland!
Experience the First Watch Difference
First Watch takes breakfast seriously. Their commitment to using only the finest ingredients ensures that every dish is bursting with flavor. From their fluffy pancakes topped with real maple syrup to their perfectly cooked omelets filled with a variety of delicious ingredients, First Watch knows how to make breakfast the most important meal of the day.
What sets First Watch apart from the competition? It's not just their fantastic food, but also their exceptional service. At First Watch, you'll be treated like family from the moment you step through the door. The servers are friendly, attentive, and always ready to make your breakfast experience unforgettable.
Must-Try Menu Items
The Morning Meditation: A delightful combination of fluffy scrambled eggs, avocado, and seasoned kale served on whole-grain toast.
The Chickichanga: This unique twist on a classic breakfast burrito features a savory mix of chicken, avocado, chorizo, and Monterey Jack cheese, all wrapped up and deep-fried to golden perfection.
Farm Stand Breakfast Tacos: Three soft corn tortillas stuffed with scrambled eggs, fresh avocado, black beans, and salsa verde. The perfect savory breakfast treat!
These are just a few examples from their extensive menu that will leave you wanting to try everything! Whether you're a fan of sweet or savory, healthy or indulgent, First Watch has something for everyone.
Saving Money Has Never Been So Delicious
Now, here's the real kicker! You can save some serious dough at First Watch with the help of The Coupons App. We've partnered with First Watch to bring you exclusive deals and discounts that will make your breakfast experience even sweeter.
Right now, for a limited time, when you visit First Watch on weekdays with the holiday menu entree, you'll receive a FREE citrus punch drink! Just imagine sipping on that refreshing concoction alongside your scrumptious breakfast. It's the perfect way to start your day without breaking the bank.
Ready to take advantage of this amazing offer? Just download The Coupons App and start exploring the fantastic deals waiting for you at First Watch and many other establishments!
So, what are you waiting for? Head over to First Watch today and indulge in the best breakfast you've ever had. Don't forget to bring your coupon for that free citrus punch drink! Trust us, your taste buds will thank you.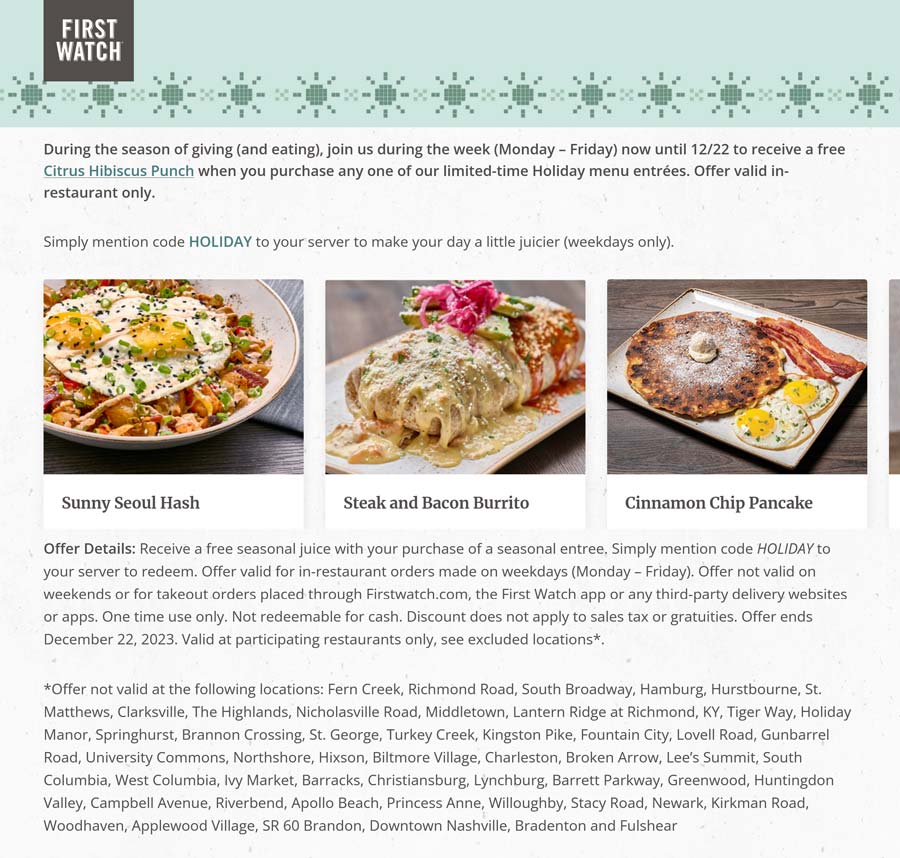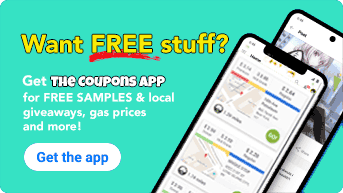 Free citrus punch drink with your holiday menu entree weekdays at First Watch #firstwatch