Slim Chickens: Where Chicken Lovers Rejoice!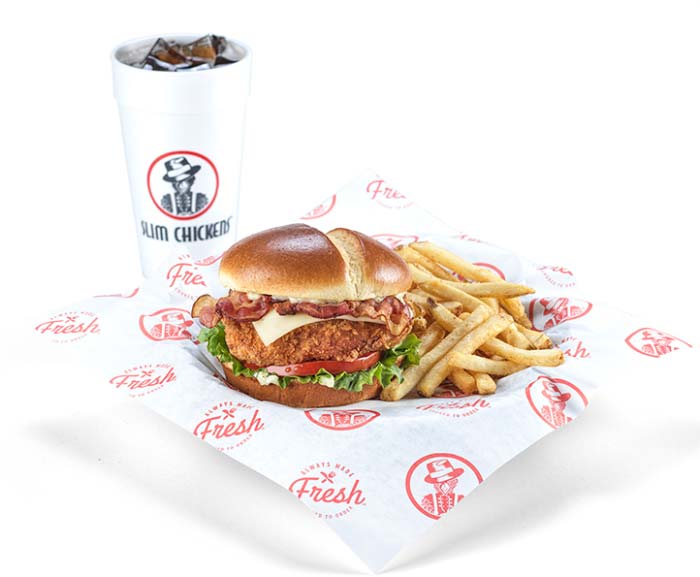 If you're a chicken lover, you're in for a treat! Slim Chickens is a haven for those who appreciate the crispy, juicy goodness of perfectly cooked chicken. But did you know that Slim Chickens offers so much more than just your regular fried chicken fix?
Deliciously Diverse Menu
From finger-lickin' chicken tenders to mouthwatering chicken sandwiches, Slim Chickens has it all. And that's not all – they also serve up crowd-pleasing classics like buffalo wings, chicken salads, and even chicken wraps. It's a poultry lover's paradise!
One standout item from their menu is their famous Slim's Plate. Picture this: a generous portion of freshly fried chicken tenders, golden fries, creamy coleslaw, and a buttery slice of Texas toast. It's a complete meal that hits all the right spots, leaving you feeling satisfied and ready to conquer the world.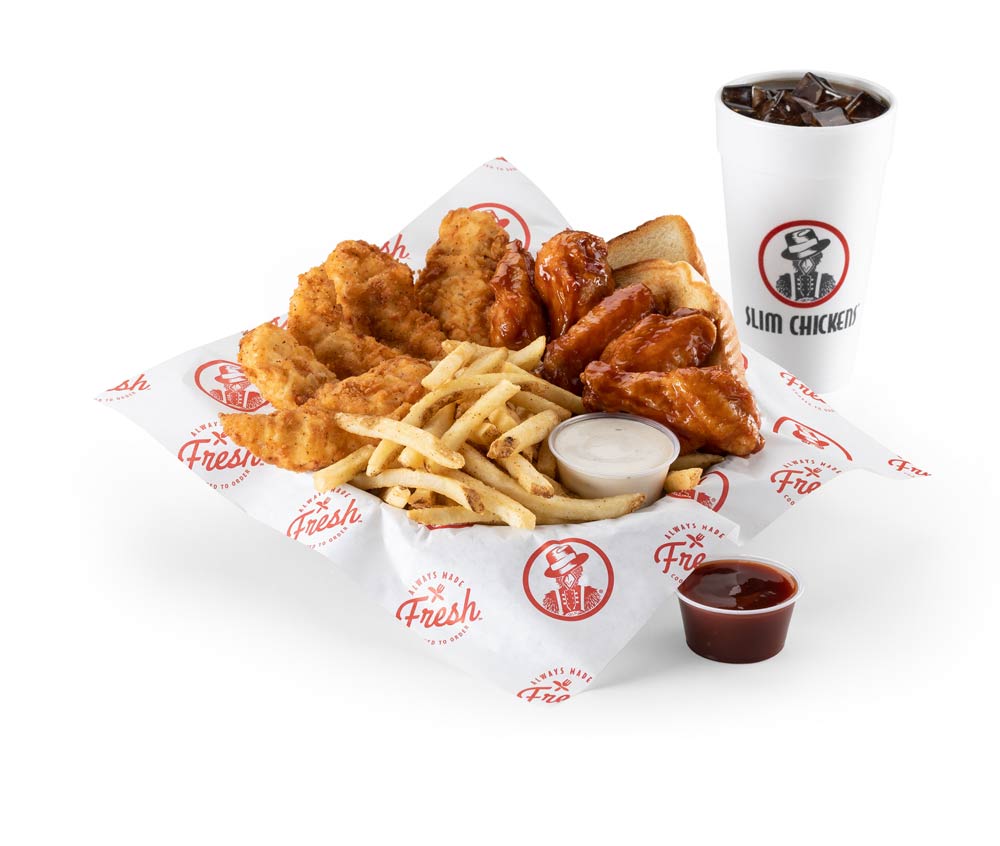 A Tasty Secret Sauce
Now, let me fill you in on a little secret. Slim Chickens is known for their incredible secret sauce. It's the stuff of legends, beloved by Slim Chickens enthusiasts far and wide. This tangy, slightly sweet sauce is the perfect condiment for dipping those crispy chicken tenders or slathering on a juicy sandwich. Trust me, once you try it, you'll wonder how you ever lived without it!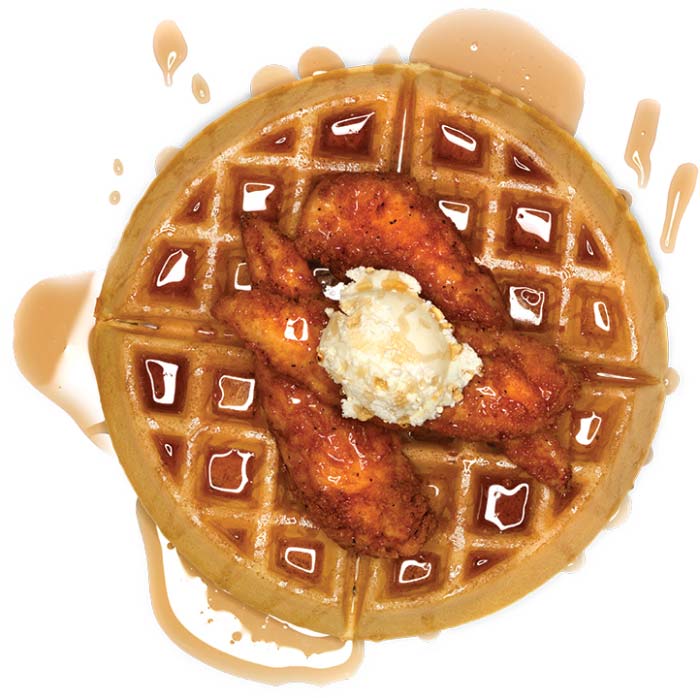 But chicken isn't the only star of the show at Slim Chickens. They also offer a delicious selection of sides, ranging from classic coleslaw to their signature macaroni and cheese. And let's not forget about their oh-so-tempting desserts! Treat yourself to a warm, gooey chocolate chip cookie or indulge in a decadent hot fudge sundae. You deserve it!
Save Big with The Coupons App®
Now that you're craving some Slim Chickens goodness, here's a fantastic deal for you. Right now, when you spend $25 or more online at Slim Chickens, you can enjoy a fantastic 20% discount! Just use the promo code THANKFUL at checkout to unlock your savings. It's like getting a chicken feast for less – talk about winning!
To take advantage of this amazing offer, head over to Slim Chickens' official website and start building your dream meal. Whether you're a loyal fan or a newcomer to the Slim Chickens experience, this deal is too good to pass up!
Imagine sinking your teeth into a crispy chicken tender, generously coated in that irresistible secret sauce. The combination of flavors and textures creates a culinary symphony that will have your taste buds dancing with joy.
So go ahead, give Slim Chickens a try today. Whether you're ordering for yourself, hanging out with friends, or planning a family meal, Slim Chickens is the ultimate destination for chicken lovers. With their diverse menu, secret sauce, and mouthwatering deals, they're sure to become your go-to spot for all things chicken. Your taste buds will thank you!
Remember, the coupon code THANKFUL for 20% off $25+ is only available for a limited time, so hurry and place your order now. Install The Coupons App® on your phone to unlock even more incredible discounts and savings on all your favorite brands!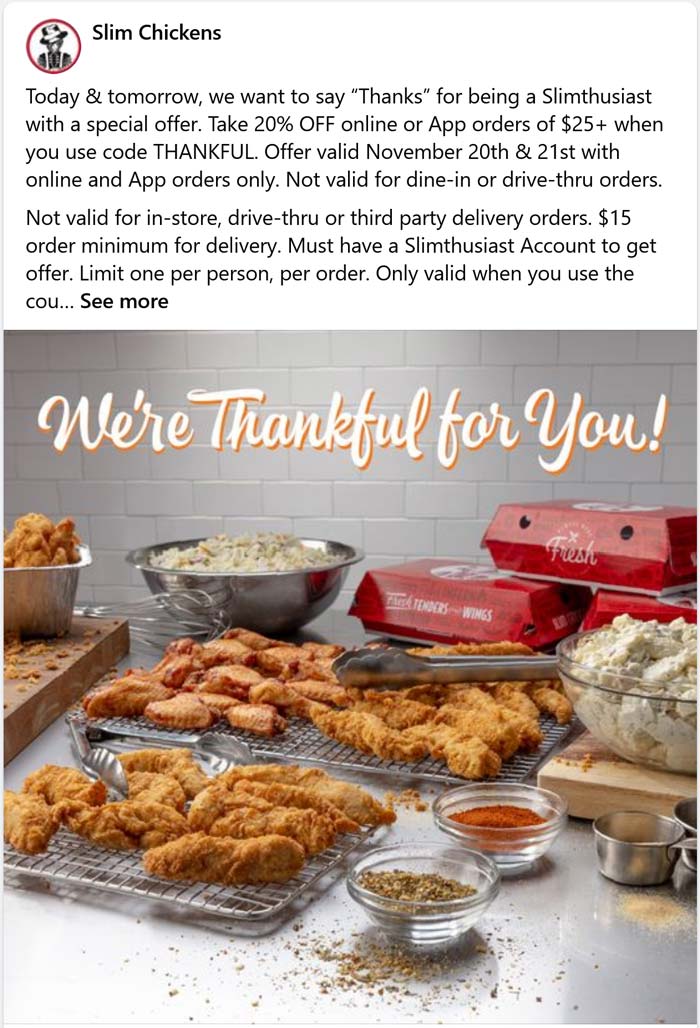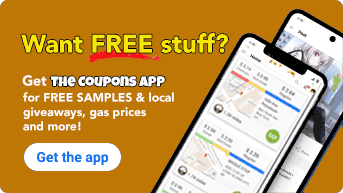 20% off $25+ online today at Slim Chickens restaurants via promo code THANKFUL #slimchickens