Discover the Delicious World of On The Border
Welcome to the vibrant world of On The Border! Prepare to embark on a culinary adventure filled with mouthwatering Mexican flavors, lively atmosphere, and exceptional savings. At On The Border, every bite is a fiesta, and every visit is an unforgettable experience!
Unleash Your Taste Buds
On The Border is renowned for its delectable Mexican cuisine that captures the essence of the country's rich culinary traditions. From sizzling fajitas to cheesy enchiladas, each dish is crafted with authentic flavors and the freshest ingredients. Whether you're a fan of savory tacos or crave indulgent quesadillas, On The Border has something to satisfy every craving.
A Feast for the Senses
Step into any On The Border restaurant, and you'll be instantly transported to a lively and festive atmosphere. The vibrant colors, lively music, and warm hospitality create an irresistible ambiance that enhances your dining experience. It's the perfect place to relax, unwind, and enjoy a memorable meal with friends and family.
Must-Try Favorites
While every dish at On The Border is worth sampling, there are a few favorites that truly stand out. Start your culinary journey with their famous Border-Style Queso, a creamy and cheesy dip that's perfect for sharing. Pair it with their flavorful Guacamole Live! made right at your table, and you'll be in dip heaven!
Sizzling Fajitas and Enchiladas
For the main course, you can't go wrong with On The Border's sizzling fajitas. Whether you prefer tender steak, succulent shrimp, or juicy chicken, these sizzling platters will satisfy your taste buds and leave you craving for more. And let's not forget about enchiladas, where On The Border truly excels. Indulge in their classic cheese enchiladas or spice things up with their bold and flavorful options.
Save Big at On The Border with The Coupons App®
Now, here comes the cherry on top! Introducing The Coupons App®, your ultimate money-saving guru. Get ready to unlock incredible savings and discounts at On The Border and other top brands. The Coupons App® is your virtual pocket companion, offering the latest deals, coupons, and promotions at your fingertips.
The Latest On The Border Coupon
Who doesn't love saving while indulging in their favorite Mexican dishes? With The Coupons App®, you can enjoy a fantastic deal today at On The Border. Get $10 off your order of $35 or more! Imagine the mouthwatering possibilities as you savor the flavors of On The Border while keeping a little extra dough in your pocket.
So don't wait any longer! Grab this amazing coupon before it expires on 12/31 and head to On The Border to treat yourself to an incredible dining experience. Your taste buds and your wallet will thank you!
Install The Coupons App® now and begin your money-saving journey today!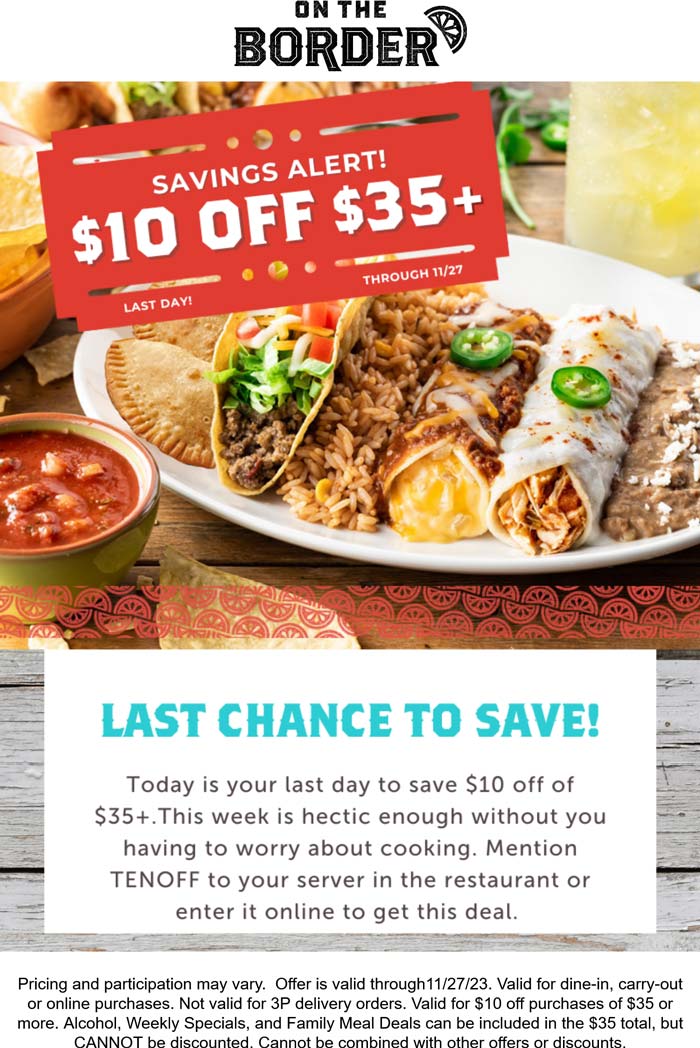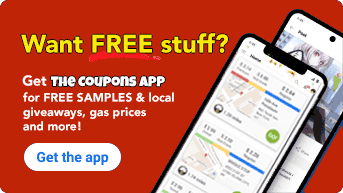 $10 off $35 today at On The Border restaurants #ontheborder