Always at Your Fingertips!
Since 2008, millions of satisfied users have made us the #1 ranked coupon app available! Catch unbelievable shopping deals at your favorite stores, restaurants & gas stations right on your smartphone! Enjoy free meals, samples & cheapest gas nearby whether locally or travelling. Get The Coupons App absolutely FREE right now for your Android, iPhone, iPad & most other mobile devices
This app is awesome! I check it before going to my favorite stores, bring up the coupon and then they scan it right from my phone. So simple to use!
- Melissa, App User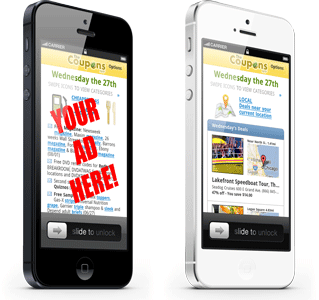 Advertise Locally to Millions of Mobile Users Today!
Get your ad visible INSTANTLY! Simply create your Google AdWords campaign, and target the following mobile app:
Android:
mobileapp::1-thecouponsapp.coupon

Android Target Code:
iOS:
mobileapp::1-461062822

iOS Target Code:
Need help? Click here for targeting assistance.
Want an exclusive, dedicated ad campaign? Contact for details
thecouponsapp@gmail.com | Privacy